Safeguarding is paramount in all aspects of sport, especially after recent findings, incidents, reviews and investigations.
Our Safeguarding Courses for your sport club staff and volunteers enable you to purchase, as a club, all of these courses as a package, mix and match the ones you want, or purchase single courses.
• Introduction to child protection (Level 1)
• Safeguarding children In practice (Level 2)
• Designated Safeguarding Lead (Level3)
• Safeguarding Leads in a Sport Organisation
• Introduction to Safeguarding Children in Football
• Safeguarding Children in Practice in Football
• Contextual Safeguarding
• What is an Education Health and Care Plan?
• Understanding whistleblowing
• Positive Handling and Challenging Behaviour
• Safeguarding children assessed as having Special Educational
Needs and Disability
• Bullying Prevention
• Understanding and responding to emotional distress
and self harm
• Child Sexual Exploitation and Sexually Harmful Behaviour
The latest amendments in safeguarding and wellbeing for sporting clubs have resulted in the fact that all sporting organisations now need to consider safeguarding risks beyond the sports club, staff, coaches, managers, volunteers and committees when creating their policies for not just themselves but for the players, fans, parents and everyone involved.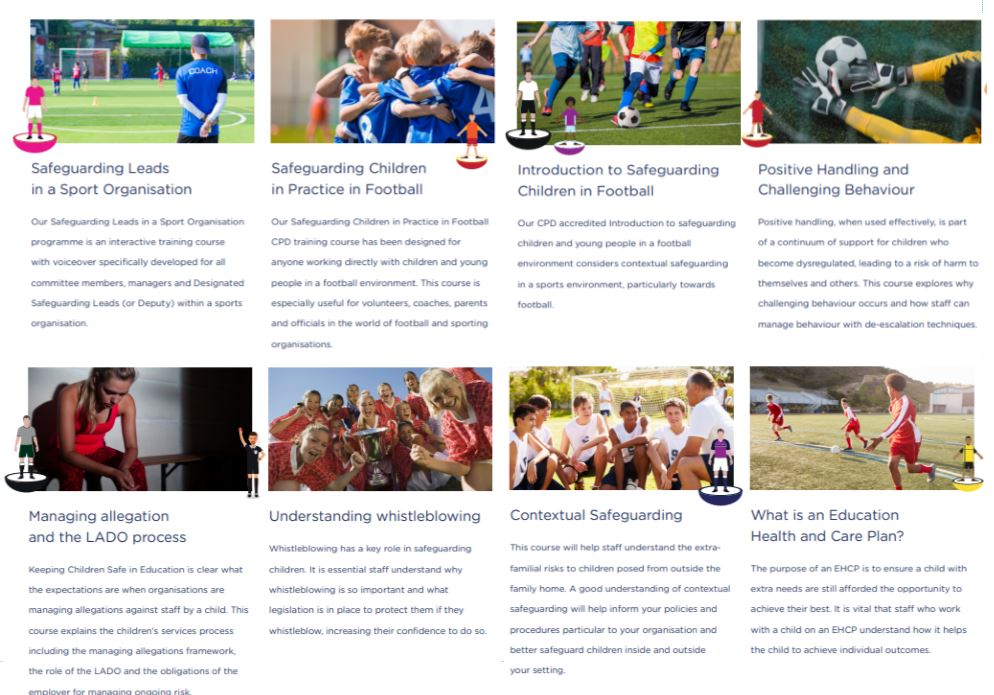 Safeguarding Audits for your sports club and organisation
Our team have also been a specialist arbitrator and National Safeguarding Panel member for Sports Resolution UK whilst also being a volunteer member of the England and Wales Cricket appeals board. They recently have just completed independent arbitration on discipline panels alongside audits, inspections and reviews for:
British Gymnastics
British Badminton
Basketball England
British Taekwondo
Muay Thai UK
Major sporting organizations
An elite professional football club
It is important that your clubs' policies and procedures are not only compliant with statutory and regulatory guidance, but also contextual in all recent updates and requirements.
Our safeguarding audit for a Sports Club is a full inspection of current processes, policies, and frameworks designed to highlight safeguarding risks within your sporting organisation. You will then receive a written report to take away and implement to ensure the safety and wellbeing of people within your organisation.
No matter what size of your sporting club or level our safeguarding audits are all about ensuring that policy is as good as it can be and that those subject to it are following it properly. Review of policies and procedure to ensure they reflect good practice and are in line with the latest legislative and regulatory requirements.
Keys to Safeguarding have several very experienced safeguarding auditors who are both National Safeguarding Panel Members for Sports Resolution.
So, what can you expect with the Safeguarding audit of your sports club?
You can expect a:
Review of whether the practice is in line with policies and procedures
Consultation with staff and service users to ensure a good knowledge and understanding of safeguarding
Comprehensive report with evidenced-based recommendations.
Our team offer invaluable industry knowledge and experience in sports resolution and investigation services in a range of sporting situations from grassroots to professional sporting clubs all the way to the elite, Olympic, or Paralympic sporting environments.
Our sporting club audits
In our sporting club audits our team have been and can be used as mediators for grievance or compliance issues regarding any safeguarding, bullying, wellbeing or training issues.
Keys to safeguarding can develop your policies and procedures whilst tailoring them to your specific sporting organisation and requirements so that you can demonstrate your commitment to safeguarding to any stakeholder, committee, board of trustees, governors, advisor or sporting body inspection team.
Our consultancy services help you create a culture of care, professionalism and trust in your organisation.

Our findings and suggestions will be provided in our investigation / audit reports.
The report can be used to support your organisation to create an inclusive and safe environment for all staff, coaches, managers, volunteers, committee, board members or trustees, players, fans, parents and everyone involved.
Action plans can also be discussed.
Depending on the size of your sports club an audit will take 2-3 days to complete.
Enquire below for more information, pricing and tailormade audits for your sports club.
Our Safeguarding Team
Milly Wildish
Designated Safeguarding Lead in Sporting Organisations
After spending 15 years working as Detective in the Metropolitan police, leading a Multi-Agency Safeguarding Hub.
Milly previously worked as a Lead Safeguarding Officer for a London school as well as a Specialist arbitrator and National Safeguarding Panel member for Sports Resolution.
Milly was also a member of the England and Wales Cricket appeals board.
Her role included spending many years as a child protection specialist and holds a qualification in forensic Interviewing of children. Milly then went on to become a counter terrorism specialist and finally led a multi agency safeguarding hub in East London and chaired the Multi Agency Sexual Exploitation Panel. Since leaving the police to pursue a career in safeguarding Milly has continued her personal development, and completed parts 1 and 2 of the NSPCC child protection trainer training; a principle safeguarding consultant for some internationally renowned charities; and is a National Safeguarding Panel member and arbitrator for sports resolution UK.

Recently Milly spent a year as a Safeguarding Lead and Pastoral support manager in a primary school, working with vulnerable children and those with special education needs and disabilities. Milly supports schools, sports clubs, faith settings, care homes and charities to create a safe environment through effective safeguarding.
Qualifications
Specialist arbitrator and National Safeguarding Panel member for Sports Resolution UK
A volunteer member of the England and Wales Cricket appeals board
Executive Trainer for the Independent Safeguarding Service
DSL Qualification
NSPCC Child Protection Training for Trainers Part 1 and 2
Specialist Child Abuse Investigations Development Programme (SCAIDP)
Achieving Best Evidence (ABE)/Forensic interviewing of children and adults
Level 2 Professionalising Investigative Programme
NPPF Sergeants Exam
NPPF Inspectors Exam
Tier 2 Specialist Suspects Interviewing
Level 4 Qualification Credit Framework in Management from CMI
Experience
Enhanced DBS check
Independent investigations for major sporting organizations
Independent arbitration on discipline panels
Safeguarding audit of a major charity
CSE, gangs and county lines workshops with students and training for teachers for St Angela's School and Kennington School
Safeguarding audit and training for a Hospice group
Safeguarding training for a major care home group Royal Star and Garter
Workshop on vulnerable consumers to over 100 insurance and financial industry managers
Safeguarding training for close protection officers at Serenity Welfare
Training to a charity supporting children with complex needs
Training to all staff at a pupil referral unit
DSL at a large school in East London
Policy and procedure development for international charity WomanKind
Greig Lloyd